More About Tae Kwon Do...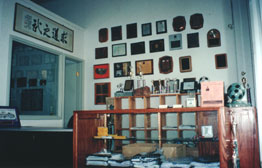 Entering the school, you are immediately aware that this place is unlike any other...


How to Choose a Martial Arts School
When you are choosing a Tae Kwon Do school, or any martial arts school, there are several things to consider.

Most important of all is to know about the individual instructor, master, or grand master that will be teaching you. Unlike other countries, no certification is required in the United States for someone who wants to open a martial arts school. Be careful to interview the Master and the other instructors in the school yourself, and make sure you find a well established school that is taught by qualified a master, and instructors.

A good school should provide students with a balanced and well rounded education in Tae Kwon Do. There are many disciplines within the art of Tae Kwon Do: its history, philosophy, tenets, self discipline, self defense, forms, sparring, and other techniques. A good school must emphasize the philosophy and principles as strongly as it does physical techniques.

Grand Master Young Yee received a 9th degree black belt from the World Tae Kwon Do Federation, which is the international organization that governs the sport of Tae Kwon Do. He is one of only a handful of true Grand Masters in the United States. Read more about this from the Daily Breeze newspaper.

Students at the Young Yee Martial Arts Center also benefit from Grand Master Yee's breadth of experience in other disciplines, such as Hapkido, Qi Gong, Acupuncture, and Herbal Medicine. His holistic approach to both Martial Arts, and Healing provides a fundamentally different and superior training environment.

Please visit our school to see first hand the quality difference that students receive at the Young Yee Martial Arts Center.